Including of Deferrals to Employer Cost Calculation
Many practitioners believe that owners have complete discretion when it comes to Deferrals. They do not necessarily reduce their pay. The money often comes from the business and treated as a deferral. Therefore, these practitioners feel that "Deferrals" are part of Employer cost and should be added to Employer Cost. This new option allows you to do that.
The default for this question is "No". You have to change it to "Yes" to see this result.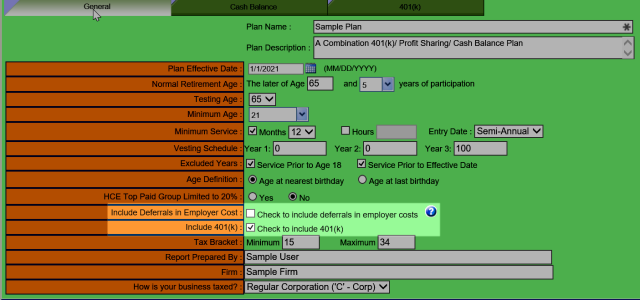 1.Review or make changes to any general plan details.
2.Make sure that "Check to include 401(k)" option is checked. If unchecked, the "Include Deferrals in Employer Cost" check-box and 401(k) tab will be disabled.
3.Check the "Include deferrals in employer costs" option to include the deferrals and catch-ups in the Employer Cost calculation for owner participants.

4.You must select

to apply changes before leaving the page.
Note: Refer to Contribution Report to view the Employer Cost Calculation.